The small dishes in vans in NZ
After few months in our van, and our exchanges through the blog, we realized that a question was regularly asked: What are you eating?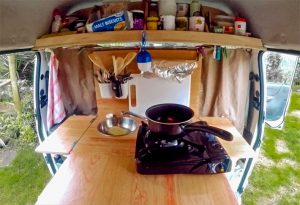 And yes, as a good frenchies that we are, with more or less talent for cooking, add this to the van lifestyle and unusually high prices on fresh food and you will get a good dose of perplexity.
Questions such as « What can you buy and keep without a fridge? », « How to buy healthy and balance diet without breaking the bank? », and especially  « How to cook in such a small space ? » seem to have followed us all along the journey. We sometimes shocked, sometimes advised and sometimes even amazed. This is how we decided to make a little article about our cooking equipment, our tips to save money, and above all to share some of our recipes, to change the pleasures and to finally say goodbye instant noodles.
Equipment
All our utensils, without exception, were purchased at "Warehouse" at a very reasonable price and therefore are easily findable and replaceable.
Gas cooker
Stove with high edges
Saucepan with lid
Cutting board
Set of wood ustensils
A good sharp knife
Can and bottle opener

Set of cutlery
2 plates
2 bowls
2 mugs
2cups
Set of plastic boxes
Clamps

 
Note that small butane bottles can also be found at "Warehouse" in a 3 or 4 bottles lot or "Kmart" under the same conditions.
The purchases
As you may have noticed, the fresh produces price in New Zealand might give you pause. Indeed, even if the country is a big producer, all local fruits and vegetables have an abnormally high cost. Apparently, New Zealand would apply a single tariff policy, so the price is the same whether the production is exported or  it stays in the country. No luck for locals who see their budget ignite at checkout. It's also because of it that it's possible to find imported fruits and vegetables at a lower cost, anyway, we will not rebuild the world.
On the other hand, for all that is "junk food" there is no budget problem, I would say that it's outrageously tempting, no, but seriously a real pizza for 5$? A 1$ ice cream or granite ? Fish & chips for less than 10$ ? Snickers, Mars, Twix and other bars at 1$ each? The same goes for fries, cookies, burgers and other candies of all kinds. Yes, yes, yes, you got the idea, it's easy to be seduced. It's not for nothing that the country has the 3rd position in world concerning the rate of its population obesity (source OECD).
Tips
First, buy seasonal products. Squash, leeks, cabbages in winter and tomatoes, cucumbers, zucchini in summer. Out of season the prices are extravageous here, the kilo of tomatoes in winter is 10 $ against 2.6$ in summer and vice versa. So we eat the products corresponding to the season and the budget.
Each store has its loyalty card. Certainly it's a bit constrictive but in the end it allows to enjoy beautiful offers and discounts. New world, Countdown, Pack'n'save, they all offer a nice little free card to take advantage of their benefits and if it doesn't apply at the checkout then it will apply to the passage to the pump depending on the option that you will chose.
The "reduced prices", this is all these "unsold" products that will expire soon, fruits and vegetables starting to deteriorate, the caterer emptying its stocks. The problem is that it's not always easy to find them. Sometimes it's in a basket well indicated, sometimes on the shelves, sometimes in loose in a box against a wall, in short it's a bit of a treasure hunt but that's how we do the best deals. In addition, they are all decked out with a "reduced" label displaying the new price, we can't go wrong.
The woofing and the help X, yes so don't shout scandal right away, obviously it's not a tip strictly speaking but, simply, it's good sometimes to think about it. When we knew we wanted to stay in a specific area during few days, we didn't hesitate. It's simple, the morning we work, the afternoon we visit and we are housed, fed, blanched in the end it remains only the essence to pay, not bad no?
Recipes ideas
Before all things, don't be too formal, it's not because we have only a stove, a frie pan and a pot that we can't make good little dishes. Without too much brainstorming and remaining simple it's possible to eat healthy and tasty. To do so, we advise you to invest in basic spices OXO cubes (equivalent of "kub'or" Maggy), salt, pepper, curry, soy sauce, smoked paprika, cinnamon more or less according to your tastes and preferences … Also think of a small bottle of sunflower oil or olive. Here we go !
Mixed fried sunny vegetables 
1 pepper (capsicum)
2 zucchini (courgettes)

1. Cut into rings, slices or diced and fry in a pan with two tablespoons of olive oil for about 20 minutes, stirring regularly.
2. Season as you like, with salt and pepper, or 3 tablespoons of soy sauce, or by crumbling an OXO cube on vegetables, or with a bit of curry !
 3. This mix can be served with two fried eggs or a steak, we mixed a can of tuna at the last minute.
Mexican Tortillas
1 mild chili red beans
1 onion
1 pepper (capsicum)
Mushrooms
Cheese

1 whole kernel corn can
Diced  or fresh tomatoes
1 tortillas pack

These ingredients make a list of possibilities that is not exhaustive depending on what you have in fresh products or not, at this time.
1. For the sake of simplicity it's enough to to make a sauté with the fresh products (onion, pepper, tomatoes, mushrooms …) in the fry pan with a spoon of oil.
2. When cooked, add the spicy red beans. Normally the can contains enough spices to avoid having to add some, but it's all a matter of taste.
4. Once the mix is ready, garnish your tortillas. You can add a piece of cheese, salad or other raw vegetables.
N.B : It's also possible to use the tortillas to make fresh wraps for lunch, to change from the sandwiches or salads. An appreciable variant in everyday life.
Winter veggies sauté
1. Chop the onion and sauté it over low heat with two oil tablespoons.
2. Cut the squash into small cubes and add to the previous preparation.
3. Ccut your tofu block, diced or sliced ​​and add to the vegetables.
4. Spice according to your tastes of soy sauce or  OXO cube, curry, pepper … Add a bit of oil if necessary and let it cook stirring regularly until the squash is ready.
NB : Replace the tofu with meat or poultry for an omnivorous version.
Risotto 
1 white rice mug
1 leek or  4 mushrooms

1 oxo cube
Fresh cream or grated cheese

1. Pour your rice into the pan and let it dry for a few minutes while stirring.
2. Cover with water up to 1 cm above the level of the rice and crumble the oxo cube. Wait for the water to evaporate while stirring regularly.
3. Add the water needed to finish cooking the rice and then chopped vegetables. (Leeks risotto, mushrooms risotto, it's up to you …)
4. Once the rice is cooked and the water is evaporated, add a small fresh cream can, or a bag of grated cheese then add pepper. It's ready !
Hot bananas or applesauce
Cut the apples into small cubes, simmer on low heat with 1 tablespoon of sugar, a little of water and a little of cinnamon. Cook until you get the desired texture.
Cut the bananas in half and fry them on both sides with a little of oil and sugar, then enjoy with a square of dark chocolate.
Vegetarian couscous
1. Cut the vegetables you have and fry them in your pan (mushrooms, squash, peppers, tomatoes, onions …) with a little of oil and spices (curry, paprika, chilli …).
2. In a bowl place the desired amount of semolina then crumble and mix an oxo cube on it.
3. Once the vegetables are cooked, boil some water in a saucepan and place the pan with the vegetables on the top of the saucepan to keep them warm.
4. When the water is boiling, cover the semolina up to 1.5 cm above it actual level and return the vegetables to the heat. Cover the bowl with a plate or lid and wait 8 minutes until the semolina swells.
5. Once the semolina ready, add the spicyvegetables and enjoy!
Fried noodles
1 tofu block
Spices +soya sauce

1. Cut the vegetables you have and the tofu block then fry them in your pan (mushrooms, squash, peppers, tomatoes, onions …) with a little of oil and spices (curry, paprika, chilli …).
2. Once the vegetables are cooked, boil some water in a saucepan and place the pan with the vegetables on the top of the saucepan to keep them warm.
3. When the water is boiling, dip the noodles in and cook the indicated time then put the vegetables on the stove.
4. Once the noodles are cooked, add it to the vegetables and sauté with soy sauce.
For even simpler meals, think about frozen vegetables or canned like green beans, or fried mix, accompanied by hams, steaks or fried eggs. There is also a whole range of canned soup that is quite tasty, simple, fast, healthy and effective.
Enjoy your meals on the roads!