Kaikoura – Canterbury
It's after our short detour to Arthur's Pass National Park that our wheels will take us to the coastal town of Kaikoura. On the road we will make only a few minor stops and a stopover on the spa city of Hanmer spring.
Hanmer Spring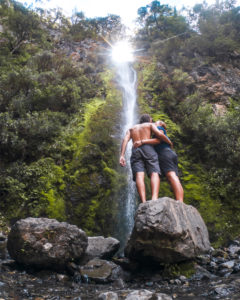 This city is one of the most famous of New Zealand for who wants to engage in the pleasure of a thalassotherapy. Indeed, many Kiwis flood there with only one intention, to recharge. It must be said that in addition to the center of thermal pools and spa perfectly equipped, the environment is conducive to relaxation.
Surrounded by mountains of giant redwood forests and river, Hanmer springs is a small town perfect to combine relaxation, outdoor activities and pleasures, as long as the budget follows.
Having the intention to keep our money for the attractions in Kaikoura we will take advantage of the area during a short hike leading to a waterfall, and having a drink on a shady terrace, just to immerse ourself in the sweetness of places.
After a visit of the city and a night on a well equipped free camp in the forest, we can only understand the enthusiasm of the locals for these soothing places, where it's also possible to have fun.
Kaikoura
It's now time to head to the city of Kaikoura with, it must be said, some excitation feeling. Indeed, the Kaikoura and its peninsula reputation is well established, the region is nationally known as a wildlife "hotspot" in New Zealand. Also, we know, for sure, that we are on our way for some of the city's activities, to live magical moments.
The city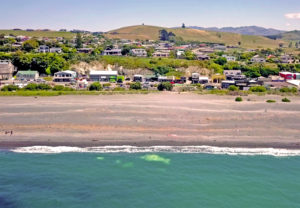 Arriving at the scene, we are surprised to find that Kaikoura is really small. What appears to be the downtown is only a few shops on a hundred meters, it's actually a tiny seaside village of just 2000 residents. In addition, some buildings keep severe stigmatas of the earthquake that put the city in quarantine in 2016 and killed 2 people. Moreover, at the time of our visit (2018), the roads leading to Kaikoura are still subject to enormous renovation work, which makes access tedious. A real blow for its inhabitants who live mainly from tourist activities. Once you get over the initial surprise, we are also aware that this little human concentration, it's certainly what allows Kaikoura to remain a local fauna sanctuary, and that it's necessarily very positive.
The Peninsula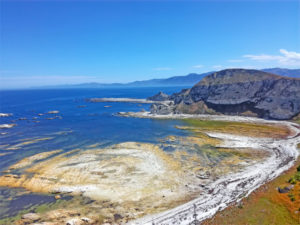 In order to appreciate the full extent of Kaikoura's Peninsula, a walking trail has been set up which pass both by beaches or cliffs. This trail also passes sacred lands which are Maori properties and protected areas for birds. It's a nice hike where we enjoy beautiful views of the south coast, but also the city itself. In addition to the birds, there is an arm of rock, north of the peninsula, which extends into the sea where many fur seals reside and have the habit to catch some rays, lying quietly in the sun.
Be careful, however, this piece of rocky peninsula is no longer accessible at high tide, check schedules if you don't want to wet your feet or go back swimming.
Activities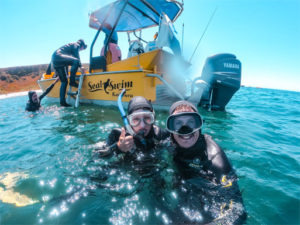 If Kaikoura is home to so many New Zealand wild animals it's because of its environment. There are so many walks and great hikes in the area, both at the seaside and at the peaks of the mountains that encircle the city. Marine animals are also grouped there thanks to the presence of a vertiginous underwater canyon. In resume everything is there for our little and big friends to feel good. Also, most of the tourist activities are based on encounters with local wildlife. Sperm whales, albatross, fur seals, dolphins, whether by boat, plane, swimming, everything is done to bring people closer of them while learning to respect as much as possible the environment and the needs of everyone. Also, we will not hide you that we succumbed to 2 of the great activities proposed.
Swim with fur seals
We were immediately attracted by the unic and original character of this activity. Before arriving in New Zealand we had never wondered about this possibility. It was on arriving in this country, and seeing these marine mammals everywhere, that we wondered whether swimming with them could be dangerous or not. Especially that when they are on land they are easily frightened and can become aggressive, this is also the case when there are new borns. So we decided to meet the "Seal Swim" team and try the experiment by their side.

After giving us the right informations on the behavior to adopt with the fur seals, we are equipped with wetsuits, fins, mask, snorkel and diving cowl and we climb, in small committee, in the yellow bus to join the boat, also yellow, in direction of the peninsula. As soon as the specimens are located, and after taking care to check that there are no vulnerable new borns in the group, we dive and we join them quietly. The whole thing is to swim calmly, without sudden move, to get closer without trying to touch them, and this is where the magic operates.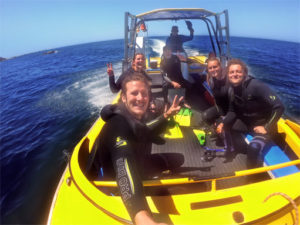 Curious by nature, the fur seals come to swim and dance gracefully around you and look at you with their big mischievous eyes.
It's simply an amazing and intense experience, all in sweetness and emotions.
We can only recommend this activity for young and old. This only requires a little of patience and respect because, for once, it's us who enter their world. A big thanks to the family business "Seal Swim" that makes this activity possible in great conditions, in small group with a friendly and fun team.
Swim with dolphins
If swimming with the wild Kaikoura's fur seals has something of unical, there is a child's dream that many carry and only wish to realize. An opportunity that few would refuse, the one of swimming among wild dolphins. Because yes, swim, pet or get pulled by a dolphin aileron, it's possible in many places where these poor cetaceans are held captive and trained for the pleasure of visitors. But what "Dolphins encounter" offers it's really to bring us to meet the wild dolphins of Kaikoura. There is no question here of any human process to attract the animals but rather to insert us, as human beings, into their element, at their own pace and at their good will. It's really an attractive activity for which we quickly got informations, there are limited places by boat either as simple observer or as swimmer. Unfortunately, strong of its success, we have been put on a waiting list.
In high season, the places are scarce and the boats being limited, everything was reserved on almost 2 weeks. So we were placed on the waiting list to claim a place as "swimmer". In other words, you must take precautions and book the activity well before arriving in Kaikoura.
So we left for Christchurch terribly disappointed, but we didn't intend to stay on Kaikoura for so long. After 3 days on Christchurch, preparing our arrival on a new woofing and taking dispositions for the van sale, we received a phone call informing us that 2 places had been freed to swim with the dolphins in Kaikoura the next day. That sounded good enough for us, we defered from one day our arrival in woofing, and we go back to Kaikoura (2.5 hours by road).
The next day we present ourselves at "Dolphin encounter" at the scheduled time, we are put in groups, swimmers on one side, observers on the other. A little tour in the cinema room for a clear summary of the rules to adopt and the attitude to have to attract the dolphins attention and play with them, then we get equip before going on the bus to the boat.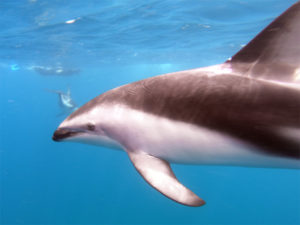 Once the dolphins shoals are located, the boat overtakes them, stops on their trajectory and throws us into the water. In a few seconds we are surrounded by hundreds of wild dolphins and we quickly understand that we are nothing. If they don't want to come and have fun with us then they go their way very fast, barely time to blink. However, if they want to make the "race" they start to turn around us and we have to follow their rhythm to create the game, it can last several seconds, and obviously we never win. But, for god's sake, these few seconds of play with these dolphins can turn into a moment of pure and absolute happiness. Then we go back on the boat when the siren sounds, then repeat the operation about 4 times.
If the moment is magic, it is also challenging.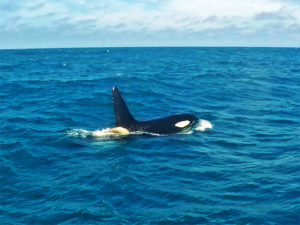 Jump into the open sea, swim, dive, breath by the snorkel, have fun with the dolphins, fight against the combination that makes us float to enjoy the moment, it is clearly physical. Add to this the excitement mixed with the apprehension and you get completely exhausted, but also filled.
We also had the chance, as a bonus, to fall on the period when the orcas passed by Kaikoura and our captain took us to them so that we could also enjoy this show, which also allowed us to contemplate the albatrosses.
---
Given the unusually large size of this article, we think that any kind of conclusion about Kaikoura would be superfluous. So we wish you simply to experience emotions as beautiful and strong as those we have felt here, much bigger than an elephant heart 😉